Built-in gsm modem
400 remote control users via free short call
400 users control by using maxim-dallas ibutton keys DS1990A
4 outputs to control via gsm cell phone
1 output arm state led
9 inputs including power supply voltage monitoring via sms messages
1 Programable Teperature controller
Free configuration and diagnostic software

Model: GTalarm v1
Price of Sample 99 EUR
Note: VAT is not included G
APPLICATION
Individual protection of houses, garages, cottages and other premises.
For remote monitoring and control of premises and for control via GSM network.
Remote control of the devices via GSM network
Access control. Gate/door control.
Automation of premises, temperature and voltage control.
GSM thermostat for premises and heating systems.
Remote voice listening.
Key features of the module:
7 inputs. Fully programmable zones.
1 inputs for arm/disarm the security system.
4 programmable 1.5A OC outputs for remote control or for fulfilment of selected function.
1 output for monitoring of system's state. LED indicator.
16 users who receive information about protected object. Reception of information in a form of SMS or via DIAL short call.
400 users. ARM/DISARM and outputs control by using Maxim-Dallas iButton keys (iButton DS1990A - 64 Bit ID)
400 users being able to control gate or electromagnetic lock via free short call.
ARM/DISARM of the system via free short call.
Temperature measurement. For temperature control, tracking, alarm and control.
Voltage measurement. Voltage monitoring and alarm.
External microphone. Remote voice listening option via external microphone.
Option to connect BELL for alarm indication.
System state BUZZER. (Optional output type)
FLASH feature may be used for direction indicators on arming or disarming or in the event of alarm. (Optional output type)
Sending of periodical test including system parameters.
SMS about state of each sensor, alarms, power supply voltage and GSM communication level.
Built-in GSM module.
Automatically send alarm signals to preset telephones, no limit of distance free SMS text in your native language and short call additionally informs about system alarm.
Voice listening via external microphone. Automatically picks up a handset if called from the user's phone.
SMS text simple-to-change.
SMS of periodical test. Comfortable control of account balance in line with visibility of useful information.
Very useful features is troubleshooting and testing of the module via USB PC; this saves time for installer and allows real-time monitoring of module parameters, input/output and GSM modem status (IMEI, SIM, registration) etc.
Testing and diagnostic of the module via USB by using program SERA
Remote set-up via SMS messages.
Configuration of the module via USB.
Free configuration program SERA.
Very compact
This products works by-it-self...not requires paying any yearly subscription fee.
This is simple like your cell phone just put any SIM card into the module...
NO YEARLY SUBSCRIPTIONS REQUIRED, JUST NEED OTHER SIM CARD..

This product will work on these bands below which are used in Europe, US, Australia New Zealand, and many other Countries. When buying this item, please make sure that your Country uses the correct GSM band and let us know in the checkout your Countries GSM Band.

Multi-Band GSM Networks Works in any Country
(850MHZ, 900MHZ) OR (1800MHZ, 1900MHZ)
Brand New with 12-month replacement warranty.
Working principle
GSM communication module GTalarm (hereinafter the Module) is applied for transferring of GSM SMS messages to the mobile phone of a user. The module GTalarm may be applied for protection of house, garages, cottages, vehicles as well as for access control, gate control, objects' automatization, smart house and temperature control. For premises protection and in many other applications. In the event of burglary, the device, depending on programmed operation algorithm, is able to call or to send SMS to up to 16 users. A user is able to hear what is going on in his vehicle after answering a call or he may make a call by himself. A user is able to receive an SMS with detailed information about status of each protected zone and number of alarm events. The user is able to control the device via SMS messages only if he knows user's password. If a call is being performed from the telephone number not included in the system's data base, the call is rejected immediately. The module has system voltage control. If power supply voltage drops below the defined value, a user automatically will be notified via SMS. The SMS message includes voltage of backup battery. The module has external temperature sensor. A user receives information about temperature alarms and restores via SMS messages. The SMS on voltage of the module and ambient temperature is also available. Temperature may be measured in Celsius and Fahrenheit. SMS periodical test ensures communication control of the module. Test sending time is programmable [Test Time]. The test will include all essential information: GSM communication strength, system (car battery's) power supply voltage, temperature and IMEI of the module. Remote Control by Dialing The module compares incoming number with programmed users' numbers and in a case of compliance activates an output or other action and interrupts the call automatically. All parameters of the module should be configured via PC by using software SERA or in remote manner by sending appropriate SMS including password.
The module transfers messages on events of the security system to the mobile phone of a user via GSM communication channel. Upon alarm response of the security system, the module will generate SMS message about alarmed sensors. Door, PIR, Fire etc. SMS message is being sent to a user in-line with a short call. This is to reduce the probability that a user will not observe SMS message. It is possible to send SMS and to call to 16 users. The algorithm of message sending is SMS1,SMS2...SMSn till all SMS messages will be send. After DIAL1,DIAL2....DIALn. All messages are being sent until all users will be notified about the event. Preferred messages and texts of these messages should be defined when programming the module.
Additional accessories upon request:
Temperature sensor with 1 m cable

Price: 10USD

External microphone with 1 m cable and connector

Price: 15USD

iButton probe + LED

Price: 20USD

iButton key

Price: 5USD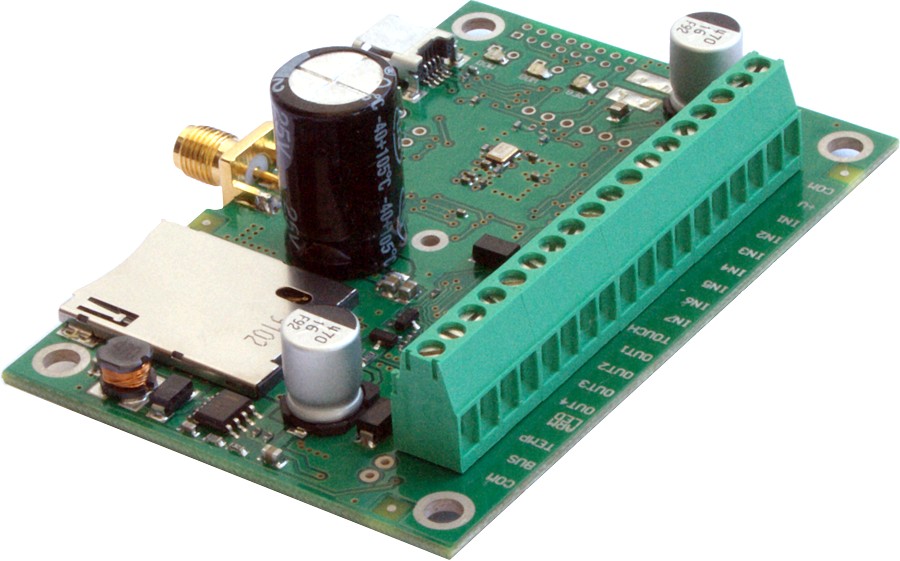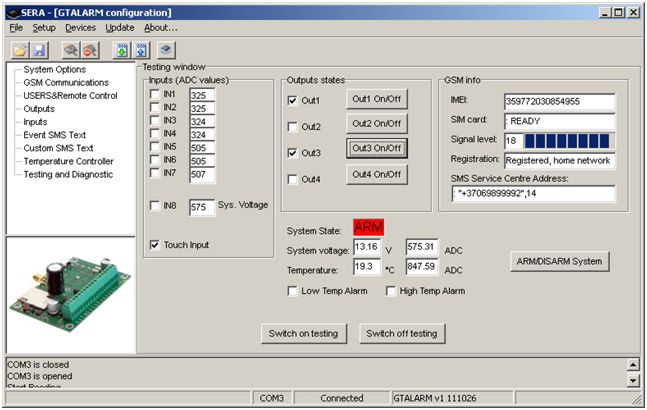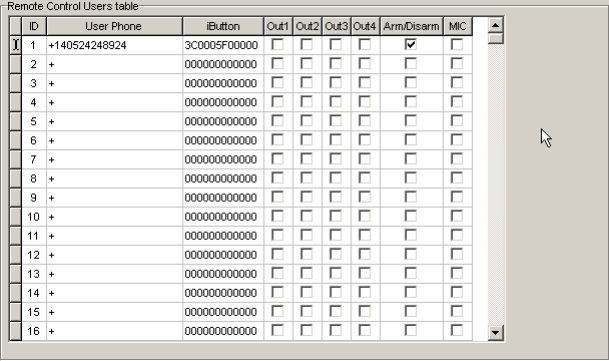 Download instruction

[ Go Back ]