System GTauto is world's single temperature controller with integrated GSM module. With state of the art technology it is possible to control temperature of distant places using the popular GSM network. System works well with heaters, Air conditioning, refrigerators etc.
Model: GTauto v4
Price of Sample 134 EUR
Note:(VAT is not included)
TCS, TCS-CT, TCS-PRO, TCS-PRO-VOICE, RGT-03 - GSM, CDE-1060
Temperature control with GSM phones
APPLICATION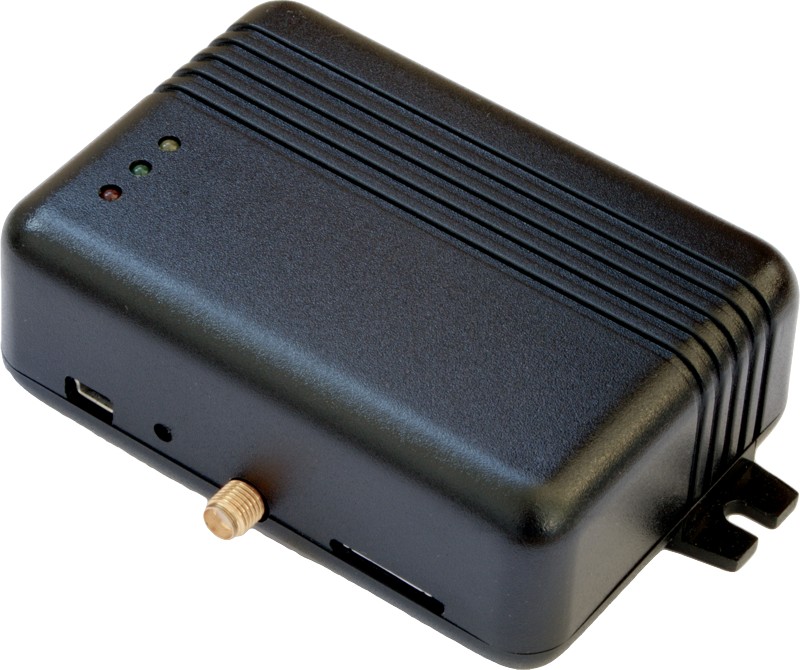 Heating system
Climate control equipment
Building management
Holliday houses
programmable temperature comfort zone
Additional Temperature calibration
Programmable temperature alarm hysteresis, Alarm and Restore temperature
Server Room Cooling
Photo-voltaic equipment
Solar panels
Individual protection of houses, garages, cottages and other premises.
For remote monitoring and control of premises and for control via GSM network.
Remote control of the devices via GSM network
Access control. Gate/door control.
Automation of premises, temperature and voltage control.
System GTauto is world's single temperature controller with integrated GSM module. With state of the art technology it is possible to control temperature of distant places using the popular GSM network. System works well with heaters, Air conditioning, refrigerators etc.
Temperature control with GSM phones
GTauto thermostat measure temperature through a probe (that is on system cable) and can drive any of outputs OUT1, OUT2, OUT3, OUT4 (you can program which) to activate or deactivate the heating/cooling system so to keep the temperature required. Temperature range is -40 to 85 degrees Celsius or accordingly Fahrenheit, with 0,1 degrees division. It is possible to set a low temperature alarm and a high temperature alarm. Passage through these thresholds will trigger alarm SMSs. You can choose a temperature hysteresis. If the temperature is too low or too high the GTauto sends a warning SMS message allowing you to take action or a output to be activated to correct the temperature.
For example can receive a reporting SMS and also switch output on or off to achieve the requested temperate. The user can remotely set the thermostat by SMS text message also.
This is quite powerful temperature control system not only for residential use but for professional use only.
If your company sells heating on a calories basis, this solution can help you a lot, avoiding energy waste and useless trips to a location.
If you have a house in the mountains and want to make sure temperature is kept correctly, the GTauto is the professional solution you want.
Module can be used to monitor industrial refrigerators, electrical transformers animal farms or any location or machine where temperature control is significant.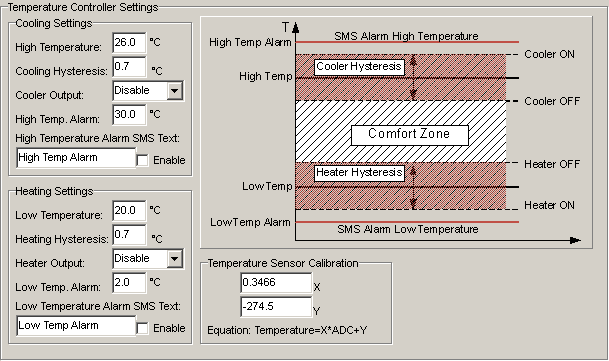 When a specific temperature is set, the system output can activate the heating system, the climate control or any other system. When the requested temperature is reached, the system turns off to avoid unneeded power costs. However, if the temperature should not rise or fall again after a time set by you, the system reports an alarm and sends you a SMS. Since you can use this device with all prepaid cards, there are no monthly telecom charges, except the costs for sending an SMS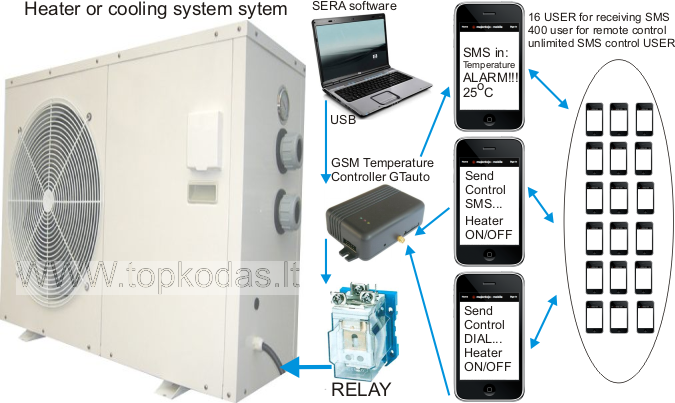 This universal system allows you to drive, control and measure following equipment:
• Photo-voltaic equipment
• Solar panels
• Heating system
• Climate control equipment
• Building management
• Holliday houses
• 1 programmable temperature zone
• 3 programmable Outputs
• Additional Temperature calibration
• Programmable temperature alarm hysteresis, Alarm and Restore temperature
Temperature controller wiring diagram example: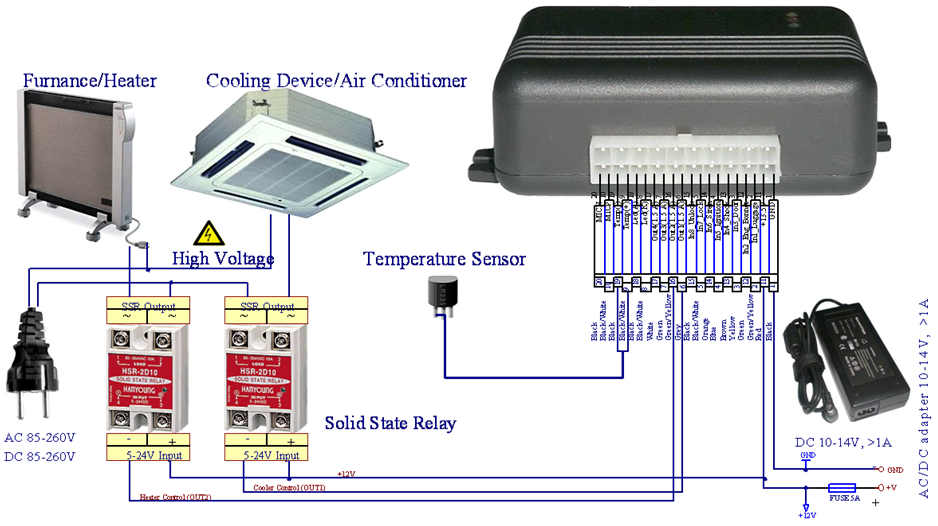 KEY FEATURES
6 inputs. Fully programmable zones.
2 inputs for arm/disarm the security system (Has ARM/DISARM blocking conditions for adapting vehicle central lock)
4 programmable 1.5A OC outputs for remote control or for fulfillment of selected function.
1 output for monitoring of system's state. LED indicator.
16 users who receive information about protected object. Reception of information in a form of SMS or via DIAL short call.
400 users being able to control gate or electromagnetic lock via free short call.
ARM/DISARM of the system via free short call.
400 remote control users by short call
SMS remote control unlimited number of users. Password protected
SMS to user about all sensor alarms (door, shock, microwave, ignition etc.).
Dialing to user about alarms.
Temperature sensing via SMS.
Voltage monitor via SMS.
Outputs remote control via SMS.
Remote starter via SMS.
Microphone. Auto answer then user dialing.
Starter (Ignition) disable (blocking ) by SMS.
Auto re-arm by SIREN.
Lock/Unlock by central locking.
All parameters free programmable via PC USB or SMS.
Built-in GSM modem. Connection of any additional external phones is not necessary; simply insert SIM card and fix antenna.
Automatically send alarm signals to preset telephones, no limit of distance free SMS text in your native language and short call additionally informs about system alarm.
Temperature measurement. Sends information via SMS. Temperature alarm. Upon failure of temperature, SMS will be sent.
Voltage measurement via SMS message. Voltage alarm.
Voice listening via external microphone. Automatically picks up a handset if called from the user's phone.
Additional bell input function. Upon bell alarm, the module will automatically turn into ARM mode.
Switching on/off via two inputs or via one. It is possible to connect directly to the central lock or security control panel.
All parameters of the module are being programmed via USB cable or SMS. The module is simply configurable via PC. Free software (SERA), settings also may be changed via SMS messages. When programming via PC configuration of the module may be saves as file.
SMS text simple-to-change.
SMS of periodical test. Comfortable control of account balance in line with visibility of useful information.
Very useful features is troubleshooting and testing of the module via USB PC; this saves time for installer and allows real-time monitoring of module parameters, input/output and GSM modem status (IMEI, SIM, registration) etc.
The module can operate in outdoor environment; it is humidity and cold resistant.
The module may be used for transport tracking via GSM network.
For more info see description of the module.
User can monitor activities around the car by telephone, and broadcast the voice to frighten away car thief's
In case of hijacking, the car can be controlled to stop by telephone
And more others features see detail manual...........
This products works by-it-self...not requires paying any yearly subscription fee.
This is simple like your cell phone just put any SIM card into the module...
NO YEARLY SUBSCRIPTIONS REQUIRED, JUST NEED OTHER SIM CARD..

This product will work on these bands below which are used in Europe, US, Australia New Zealand, and many other Countries. When buying this item, please make sure that your Country uses the correct GSM band and let us know in the checkout your Countries GSM Band.

Multi-Band GSM Networks Works in any Country
(850MHZ, 900MHZ) OR (1800MHZ, 1900MHZ)
Brand New with 12-month replacement warranty.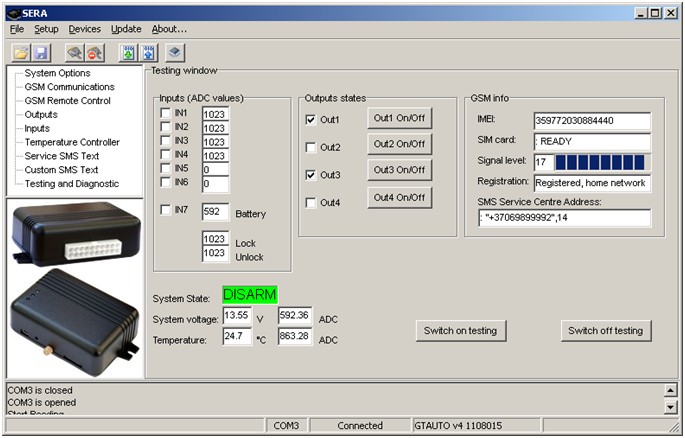 Download instruction

[ Go Back ]